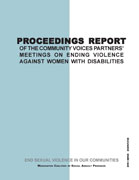 [1]
The National Study of Women with Physical Disabilities conducted by the Center for Research on Women with Disabilities (CROWD) in 1988, concluded that women with disabilities face the same risks of abuse that all women face, plus additional risks specifically related to their disability. The authors found notable that women with disabilities tended to experience abuse for longer periods of time, reflecting the reduced number of escape options open to them due to more severe economic dependence, the need for assistance with personal care, environmental barriers, and social isolation. According to the authors it is difficult to separate the effect of disability from the effects of poverty, low self-esteem, and family background in identifying the precursors to violence against this population.
Using 2000 Census data, in Washington State nearly 1 million individuals identify themselves as disabled. From other recent reports, over 795,000 are identified as severely disabled. Over 99,000 individuals are identified as developmentally disabled, and over 18,000 individuals are in residential or institutional settings designed to provide care and support to individuals with physical, mental and sensory impairments.
In 2002, because of its recognition of the problem of access to sexual assault services by people with disabilities, the Washington Coalition of Sexual Assault Programs (WCSAP) applied for and was awarded a U.S. Department of Justice grant. The purpose of the grant was to support WCSAP's efforts to combine its expertise with the expertise of representatives from the disability community - people with disabilities and those who work with people with disabilities - to initiate a series of activities designed to create a statewide accessible and appropriate response system to sexual assault of people with disabilities.
Download this report [1]