Washington's 2018 SAAM Campaign was developed to complement this year's national SAAM theme of "Embrace Your Voice" by the National Sexual Violence Resource Center (NSVRC). The national campaign emphasizes that how we talk about sexual violence matters and encourages everyone to embrace the power in their voice — from voicing support for survivors to challenging victim blaming. We encourage you to explore the SAAM guidance and tools provided by NSVRC that are included at the bottom of this page.
The Washington campaign draws on the momentum of the action-oriented "Be The Solution" theme. This year's campaign tools challenge rape culture norms related to sexuality, boundaries, and gender. Below is more about the fun items and tools this year.
2018 Washington SAAM Campaign
Poster Series
This year we're excited to work with the fantastic artwork from The Frizz Kid. We've selected three pieces of art from their Affirmation Series that tie into the themes of SAAM. As usual, there's white space in the left corner for you to add your program's hotline number or other resources.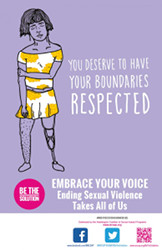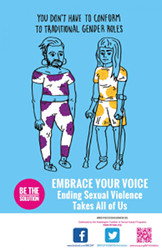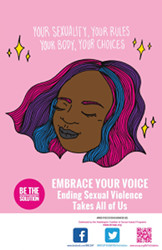 Be The Solution Discussion Guide, Teen Edition
The "Be The Solution" Game & Discussion Guide encourages youth to discuss topics related to developing healthy sexuality, boundaries, and fulfilling relationships. This year in conjunction with SAAM, we're updated, expanded, and re-released this Guide! These are available in English and Spanish, you can download them by clicking on the image below. Or read more about them.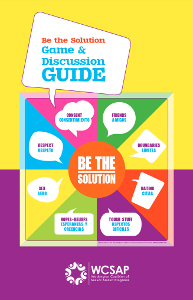 Download this publication
2018 National SAAM Campaign