Over the last few years The White House has taken actions to call attention to the scope of campus sexual violence, provide guidance to schools on how to effectively respond when violence has occurred, improve Title IX enforcement, and prevent campus sexual assault.
The White House and partners have used many avenues such as launching a resource website and large-scale public awareness campaigns to start the conversation in communities. Additionally, The White House worked with the Centers for Disease Control and Prevention (CDC) to address the issue of prevention.
The White House and CDC conducted Think Tank and Action Planning meetings with experts from the Justice Department's Office on Violence Against Women, Sex Offender SMART Office, Department of Education, state departments of health and state sexual violence coalitions involved in the Rape Prevention Education program, college/university prevention educators and administrators, students, law enforcement, and researchers.
The resource guide Sexual Violence on Campus: Strategies for Prevention, released by the CDC in 2016, is the product of a multi-year process to create guidance and identify tools to prevent sexual violence on college campuses.
Framework for Campus Sexual Violence Prevention Efforts
Through the meetings with experts and stakeholders, CDC has developed a promising practices framework for campus sexual violence prevention. This begins with five components for addressing sexual violence on campuses (see in the image below). And for each of these components, there are several action items outlined. More details on each can be found in the resource guide.
Five Component Framework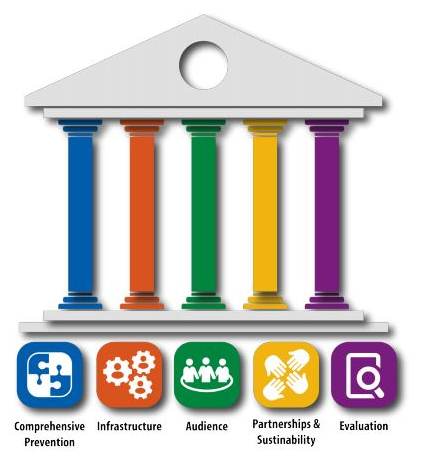 Comprehensive Prevention in Action
Programming should work across the Social Ecological Model (see the table below for examples of this).
Program design needs to meet the 9 Principles of Prevention.
Utilize data, such as needs assessments and climate surveys, to ensure the prevention efforts are relevant and specific to that community.
Employ a multi-sector approach; community response teams
Campuses should coordinate efforts and cross-train staff in prevention & response.
Campuses should partner with community-based sexual assault programs and other community service organizations.
Effective efforts will promote a gender-equity perspective, address intersectional forms of violence and oppression, and include survivors and students.
Example of a Comprehensive Campus-Based Prevention Strategy
Individual
Relationship
Community
Societal

Build bystander intervention and healthy relationship skills and establish positive norms about gender, sexuality, and violence with evidence-informed interactive, multi-session intervention for incoming students

Coach-implemented intervention for male athletes addressing hyper-masculine peer norms that support or facilitate sexual violence

Dorm-based intervention that reinforces positive norms and skills relate to bystander behavior and healthy sexuality

Engage campus leadership to promote culture of safety and respect

Social marketing campaign to address norms related to sexual violence, gender, sexuality

Hot spot mapping to identify and monitor unsafe areas on campus

Community initiatives to implement/enforce alcohol policy

Efforts to reduce excessive alcohol use or problem outlets

Strengthen/support enforcement, response, and reporting policies on and off campus

—> Consistent messages across campus policies and programs —>
Infrastructure in Action
Well trained staff
Standardized training
Hire dedicated prevention staff
Institutionalize prevention
Create a team/workgroup/committee
Foster relationships with referral services
Incorporate violence prevention with other prevention programs
Trauma-informed approach
Work across all the types of violence
Appealing to Audiences in Action
Identify champions
The messenger matters
Tailor to specific communities; one-size doesn't fit all;
Plan for differences in types of institutions
Engage parents
Use practice & social media; meet students where they are;
Active & visible bystanders; campus culture where SV is not tolerated
Partnerships to Sustain Prevention in Action
Develop MOUs
Ensure leaders are bought in
Create permanent staff positions
Include students in planning & programming
Partner with health services
Evaluation in Action
Rigorously evaluate programs, practices, and policies
Focus outcomes on reducing perpetration
Capacity to evaluate
Value participatory research
Require logic models and theories of change
Build connections between research and practice
Additional Elements of the Guide
The authors of the guide reference the recently published CDC Sexual Violence Technical Package and discuss the ways in which these same strategies can be applied on a college campus.
The appendix provides a list of potential partners, a sample action plan, & other campus sexual violence resources.
Dills J, Fowler D, Payne G. "Sexual Violence on Campus: Strategies for Prevention." Atlanta, GA: National Center for Injury Prevention and Control, Centers for Disease Control and Prevention, 2016.