2019 Sexual Assault Awareness Month Campaign Materials
WCSAP heard an overwhelming amount of positive feedback in response to last year's SAAM posters, so this year we're printing another run of the WCSAP's 2018 SAAM Posters, as well as two new designs from TheFrizzKid. These posters are from TheFrizzKid's Affirmation Series, and they highlight themes related to gender expression, consent, body autonomy, and trauma.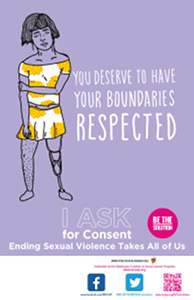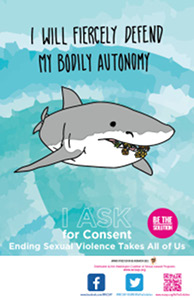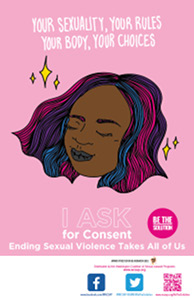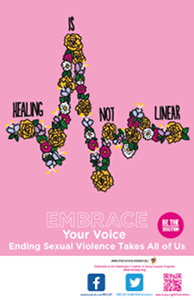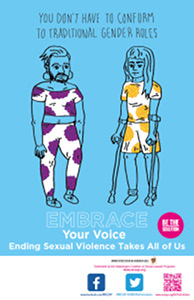 We're also including WCSAP's Child Sexual Abuse Prevention Resource, Creating Protective Environments: Preventing Child Sexual Abuse in Faith Communities. This resource is intended to help faith communities engage in prevention by providing adults with the tools to challenge and shift the power structures, attitudes, beliefs, and norms that contribute to child sexual abuse. We have additional copies for individuals or programs that need more, you can request more by contacting prevention.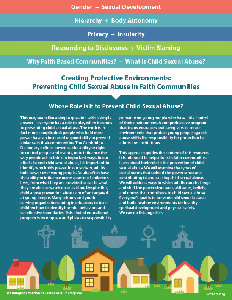 We want people to know about the amazing Community Sexual Assault Programs (CSAPs) in their area, so we have also included informational cards that provide an overview of the services that CSAPs offer. It directs people to WCSAP's CSAP directory webpage where they can sort by Name, City, or County to find CSAPs in Washington.
How to Order
The link below will direct you to a form where you can order materials. All materials are free for OCVA funded Community Sexual Assault Programs and WCSAP Members as long as supplies are available. We are available to provide technical assistance and support as you engage in SAAM activities and/or utilize WCSAP resources in your community. Please feel free to contact prevention if you have any questions.
Supporting Your Community SAAM Efforts
Campaign Toolkit
An overview of the campaign theme
Information about the campaign materials
Guidance on youth activism created by Safer Campus
Additional resources related to student rights and resources for youth on campus
Other Support
Working with the Community. Includes past campaign activities and discussions, tips for community and school engagement, and topic specific talking points.