It's Time... To Talk to Your Children About Healthy Sexuality
This year's campaign focuses on healthy sexuality and its connection to child sexual abuse prevention. The campaign combines elements of Washington's original Be The Solution campaign series with the National Sexual Assault Awareness Month campaign. By joining the national movement, Washington programs have a chance to strengthen their message in communities.
Download the 2013 Campaign Packet for strategies and ways you can use the campaign for your Sexual Assault Awareness Month activities.
Healthy Sexual Development brochure
These tri-fold brochures are a great item to give to parents!
Inside parents can find out about healthy sexual development for children, why it is important to talk to children about sexuality, and tips for having these conversations. It's a great way to get the conversation started!
Available in English, Russian, Spanish, and Vietnamese.
Additional Resources for Parents
Overview of Healthy Childhood Sexual Development - National Sexual Violence Resource Center
Exercise: Assessing knowledge for talking to your kids about sex - National Sexual Violence Resource Center
Healthy Sexuality Poster
Designed to print 12 x 18. Includes a QR code that can be scanned with smart phones to direct folks to the WASAAM site plus social networking links.
Download the PDF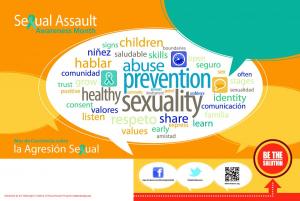 A bullet list of INternal links
Delete this list if there are no links
A bullet list of EXternal links
Delete this list if there are no links